All news
November 16, 2023
INTERCOM Paraguay 2023 Conference has started! Highlights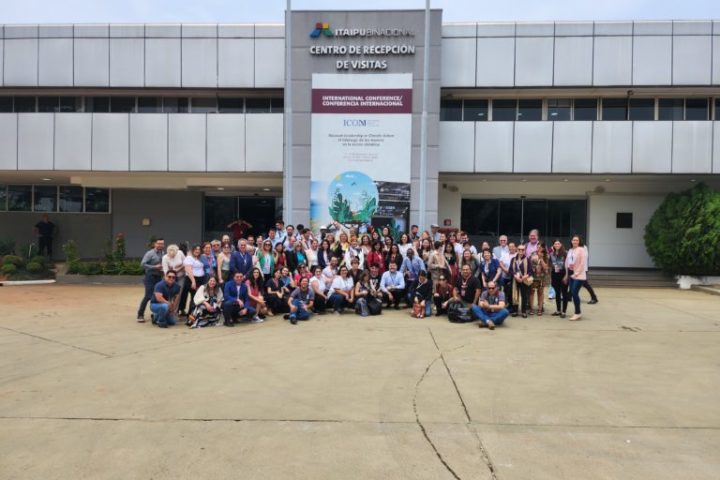 The action driven conference on climate changes gathered the greatest number of ICOM committees at the same annual event on the Latin American continent. The joint conference of INTERCOM, ICMAH, ICTOP and MPR hosted by ICOM Paraguay started at the ITAIPU Binacional Congress Centre in Hernandaries by opening speaches of the hosts and chairpersons of the co-organizing committees. The opening was attended by the ITAIPU Binancional General Director on Paraguy side who greeted participants and wished them a nice stay and constructive work during the conference.
The chosen conference topic "Museum Leadership in Climate Action" forwards a demanding task for organizers to set guidelines on how to lead museums into action to  reduce the negative impact of  climate change consequences. The aim is  to inspire and offer guidance on how museums can be part of the solution in actions to turn the wheel of fortune in the right direction for our planet.  The selection of the conference venue has been an opportunity for including the indigenous leaders so the opening keynote was   Alba Eiragul Duarte, an artist, activist and poet from Paraguay. For centuries indigenous communities have been in balance with nature and then a shock! It took less then one century  to see a dreadful impact of greed resulting in huge scale devastation. Their natural environment has been irreversibly affected by overexploitation having an immense economical and socio-political impact.  In such an alarming state of affairs museums have a difficult role to play and the conference will offer many examples how responsibility can come on stage.
DAY 2 OF THE ANNUAL CONFERENCE
INTERCOM SESSION WITH FLYING IDEAS!
The INTERCOM keynote Marcelo Iniarra from Argentina has lifted the spirit of the conference participants during the morning session of the second day of the conference. What can museums do? How they can abandon old practices and embrace new ideas was the interactive task and the ideas were supposed to arrive on the stage by papers airplanes. Very good idea to engage the audience! The session was moderated by the INTERCOM Treasurer Hans van de Bunte and the speakers which followed brought different examples on climate driven actions by museums, statistics on how to adapt museums to work in  a more sustainable way and even a legislative comparison which is supposed to push museums towards green solutions.
After a spectacular show at the welcome reception offered by the hosts, participants are full of emotions and refueling their energy – watching the powerful water dam in a magnificent light and sound performance was a unique experience! Followed by the concert at the dam and traditional dance show, ITAIPU Binancional offered an exceptional evening for the ICOM conference which gathered more than 270 people from 15 countries.