All news
July 20, 2022
CALL FOR CANDIDATES FOR THE INTERCOM BOARD – EXTENDED TO 25 JULY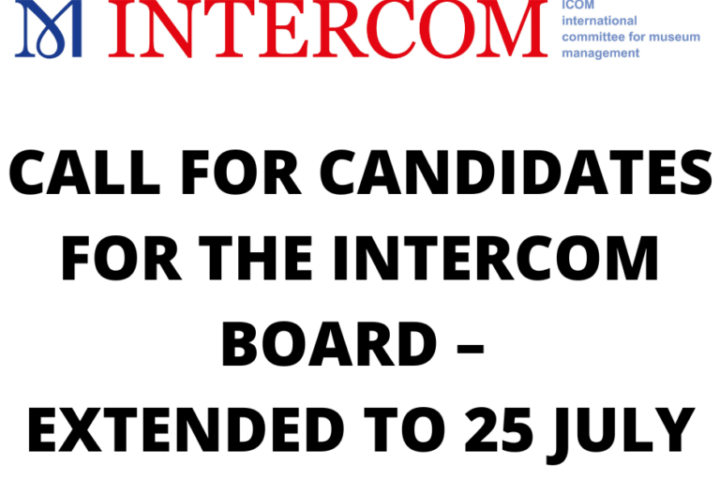 According to the ICOM Statutes and Statutes of INTERCOM, the International Committee for Museum Management announces the call for candidates for INTERCOM  Board 2022-2025
Board meeting and board election will be held on the 25 August 2022 onsite during the General Conference in Prague
INTERCOM shall be managed by an Executive Board of at least five (5) members and
up to eight (8) members elected at the Triennial Plenary Session.
The elected members include the following officers:
Chair,
Secretary,
Treasurer
Board members not holding office should be known as Ordinary Board member(s).
The nomination process is now underway for the following Board positions:
Chair
Secretary
Treasurer
Ordinary board member (2 – 5 members)
The Chair shall be elected separately from the other members of the Board.
Nomination for the INTERCOM Board are open to all members in good standing at the time of application.
According to the INTERCOM Statutes "Only members of INTERCOM in good standing, including a designated representative of an institutional member, are eligible to stand for election to the
Executive Board subject to the limitations imposed by ICOM Statutes and Internal Rules and provided her/his active participation in INTERCOM activities at least one-year prior to elections".
All candidates will fill in the candidate form describing their previous work in INTERCOM and how they will contribute to the INTERCOM board in the forthcoming triennium. All candidates should submit their written and signed application at least one month prior to the election.
The eligibility of the candidates is clarified below:
The eligibility of applicants depends on the following requirements and limitations:
The Chair and the other members of the Board shall be elected for three (3) years, and their mandate can be renewed once.
A member of the Board may subsequently be elected Chair.
However, no one may remain on the Board for more than twelve (12) consecutive years.
The Chair of an International Committee may not at the same time serve as Chair of a National Committee or an Affiliated Organisation or a Regional Alliance or as a member of the Executive Board.
Only ICOM members in good standing who are members of the International Committee are eligible to stand for election
Please note that Student, Honorary and Supporting Members are not entitled to hold an elected office in ICOM.
A candidate may apply for a single function only.
A candidate should read the INTERCOM Statutes
"In accepting their office, the members of the Board undertake to devote sufficient time and to find the means necessary to carry out their functions. All members of the Board are expected to actively advocate for INTERCOM's programmes of activities and participate in the efforts to promote the committee's work." (INTERCOM Statutes)
ELECTION CALENDAR
To apply please fill in the attached candidate form and send it to INTERCOM Secretary Emilie Girard – emilie.girard@mucem.org
Application deadline: 25th July 2022.
Application check-up: 25th July – 1st August 2022.
Announcement of the candidates 1st August 2022
Submitting the online vote 23 – 24 August to the Secretary – online voters have to send their ICOM card number, confirming that they are the voting members of INTERCOM and be members in good standing paying their fee for 2022.
Voting on the spot 25th August.